What is the work of building respectful relationships with students?
Teachers intentionally build and sustain respectful relationships with students in the classroom. Teachers who form respectful relationships with students are able to work collaboratively with children and manage power dynamics in ways that increase student participation, engagement, and achievement. Respectful teacher-student relationships are characterized by trust, care, joy, and appreciation of students' cultures and communities. Teachers develop their relationships in all aspects of their teaching, including small conversations with individuals, notes to students, nonverbal signals, and how they respond to and acknowledge students during lessons.
How can building respectful relationships with students advance justice?
The quality of the relationships that students have with their teachers affects their success and flourishing. Teachers' relationships with students can help students feel valued and supported, can positively shape students' academic identities, and help engage them in learning. A teacher who has strong relationships with students will be better positioned to leverage that knowledge in favor of curriculum and learning activities that are relevant to students' lives and draw on their experiences. However, because teacher-student relationships can also be harmful and oppressive, and can reproduce patterns of racism, care with developing positive relationships is foundational to everything teachers do.
How do we decompose the practice into learnable parts?
The diagram below break down the work that teachers do when they are building respectful relationships with students. They each illustrate the four areas of work critical to the practice: building mutual trust, establishing rapport, monitoring and maintaining relationships with students, and examining and managing self. By breaking down the practice into these four areas of work, teacher educators can engage teachers in learning about building respectful relationships in ways that can be observed and practiced. Unlike some other high-leverage practices, teachers typically enact the core areas of work and techniques outlined in the decomposition of building respectful relationships in overlapping, complex ways, rather than chronologically.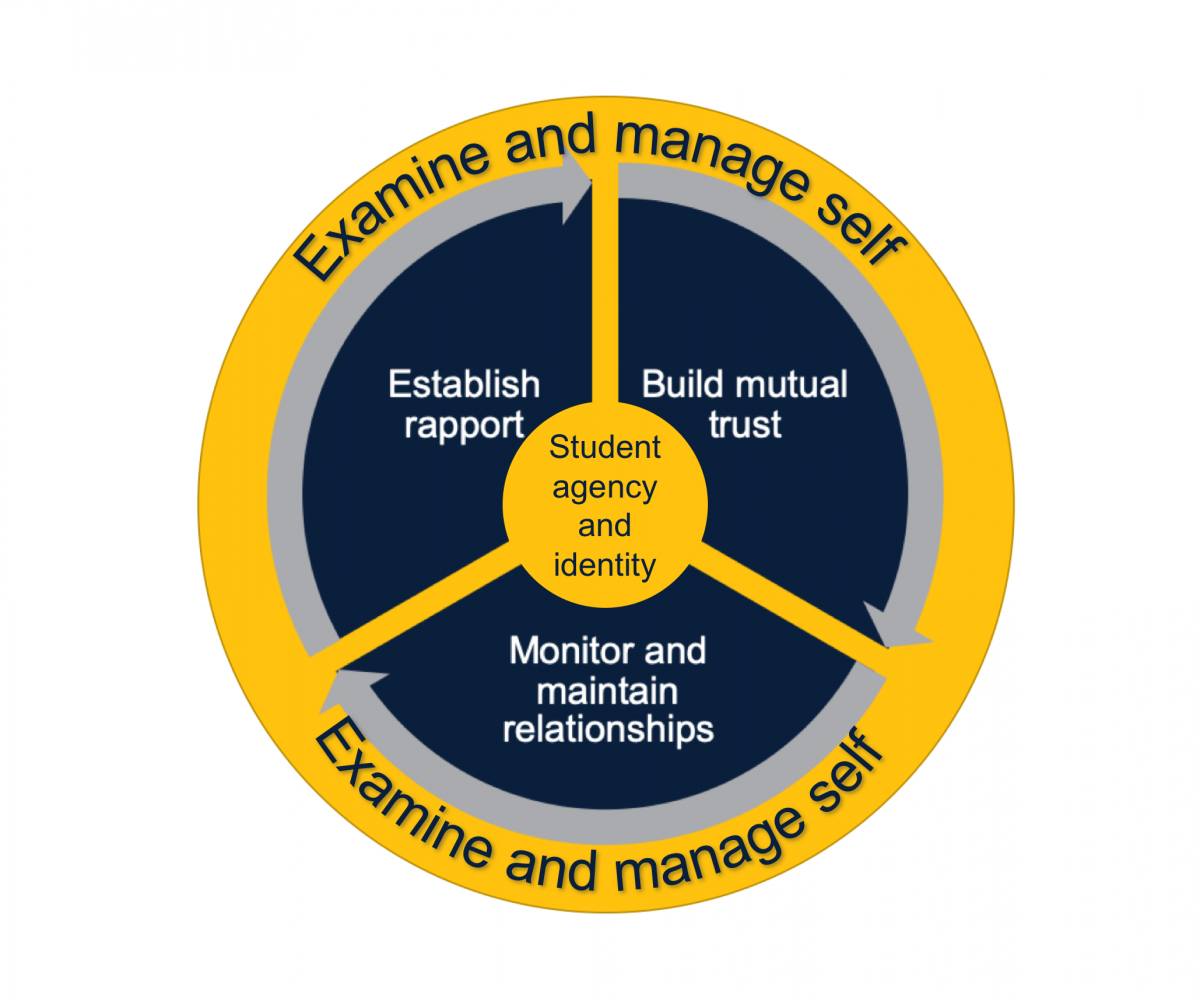 What is challenging about learning this practice?
When teachers engage in building respectful relationships, they work to fully appreciate multiple ways of knowing and being. Yet, many of us come to our roles as teachers and teacher educators with strongly held beliefs about what it means to build relationships with children. And, many come to teaching with implicit bias, which may cause us to engage in relationship-building work unevenly among different groups of children, or to miss important opportunities to identify and build on students' relational preferences and orientations when they do not coincide with our own. Teachers should work to interrogate and then jettison biases and assumptions about relational work that may have the power to negatively impact children. Ultimately, teachers should honor all children, positioning them as sense-makers capable of doing meaningful work and as humans worthy of love and affirmation.
What does this practice look like in each content area?